As you download, we invite you to join the community. There are many ways to contribute to the project, help out users on the forum, documentation, testing, providing mirroring or hosting, and helping other users.
We have Images for Hyper-V and VMware available for download.
Below you can download the latest release of eFa, all downloads are compressed for smaller download size.
For an overview of the mirror status see the Mirror Status page.
If you plan on using the product to sell to your customers please read through all the license requirements.
Some products (like DCC) might require you to purchase an license from the respective owner and are not free of use.

eFa 3.0.2.5 VMware OVF
VMWare OVF image, 1,003 MB
Minimal hardware version 8 is required (ESXi 5.x or higher)
MD5SUM for eFa-3.0.2.5-VMware.zip
fba3836c68e53448b86c48ffb79d4929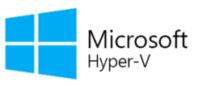 eFa 3.0.2.5 Hyper-V image
Hyper-V image, 900MB
Microsoft Hyper-V 2012 or higher is required to import
MD5SUM for eFa-3.0.2.5-HyperV.zip
474b9c4602d4157bcbc5e1fe9a58d7f6